Preparing the Motom engine to a 15/17 valve setup to see what this brings.
But found some problems that need to be solved first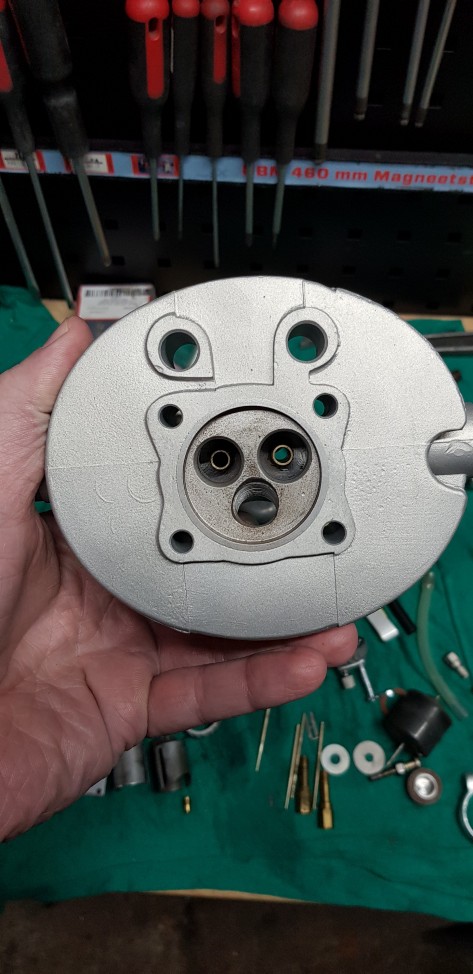 Start off lifting the head.
Clearly no oil, its way to dry.
A shiny spot on the piston is usually an indication something wrong is happening.
And after spinning it with a drill, the answer came pretty fast.
See here: (movie is from 0,25 speed to 0,5 to 0,7 to 1 to show clean piston at the beginning)
Clearly the piston rings are worn out. (and probably the piston bore to) this also can be seen as the DYNO smoke was present on the runs.
So looked at my spare parts and found a 42.0mm piston with cylinder (a set)
It looks like this set is not that old, so we gona use it for my test engine.
Don't know the brand, but think she will hold a 100km
But a bigger concern is the oil problem, it seems to pump to the piston and crank without problems, but it does not want to pump to the head.
(Have checked the copper tube but that is free no obstacle there)
Perhaps the small copper tube at the bottom broke, but from looking at the pictures it looks all right. (But can't tell for sure)
Will need to open here up.
It seems to look all right.
Its not the problem, this one is clean.
Removed the clutch cover.
Room for the gear selector
Oil hose to see if oil is pressent.
Well did the first longest test drive, but that diddent go as planned.
She started all right, first 500m went well, but after a somewhat longer straight the piston start clamping you can feel/hear its engine started running heavier and you pull the clutch engine dies.
First ring 0,5mm (is too large)
Second ring 0,1mm (is to small)
Third ring 0,8mm (is to large)
Piston = 41,94mm = good
Cylinder = 42,00mm = good
First piston ring gap 0,5mm = not good
Second piston ring gap 0,1mm = not good
Third piston ring gap 0,8mm = not good
Found a usable set with a 40,8mm piston
The 66gr complete piston is not that bad.
Plug color is r
elative good. (70 main)
Drove here again to my Dyno to see what this setup does.
The setup now is:
15/17 valves 12mm Dellorto (66 Main)
Ignition set at 28 degrees
Here she is all strapped in, ready to go.
Top speed now is about 61,4KMH